mintBlue partners with VISMA | Yuki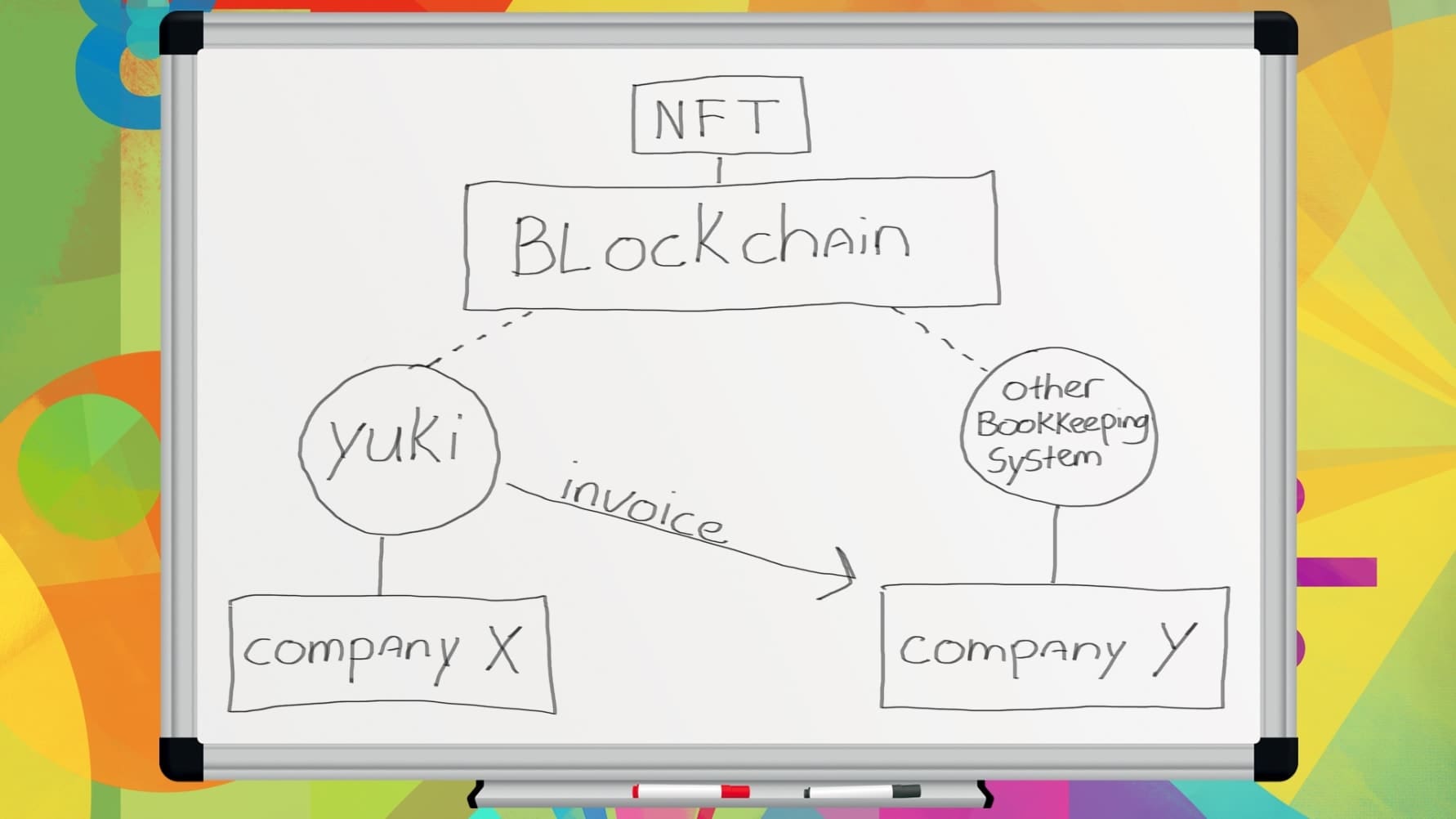 mintBlue selected by VISMA | yuki to incorporate blockchain technology into its accounting suite.
AMSTERDAM, November 30, 2021 –
mintBlue, an Amsterdam-based blockchain infrastructure provider, has been selected by VISMA | Yuki to incorporate blockchain technology into its accounting platform. This integration allows the authenticity of receipts and invoices to be automatically verified. This integration represents the first step in fully secure automation of invoice processing and payment.
Fake invoices are becoming increasingly difficult to spot. The recipient of the invoice remains responsible for checking and processing. Performing this task 100% accurately involves a lot of verification work, despite the high degree of automation.
Once the sender places an invoice in the blockchain, the sender or recipient cannot change it. mintBlue's technology enables the invoice to be automatically validated based on its blockchain-based counterpart, the invoice NFT. When both invoices are identical, automatic processing and payments can take place. The VISMA | yuki software manages the payment processing and the best time to pay for optimal cash flow planning..
Most software can already automate invoice processing to a large extent. But automation is not necessarily safe. Dependence on third parties is a potential weakness. For example, a supplier in the processing chain can be hacked, go bankrupt, increase prices, or discontinue the service. Governments can change rules for the standardization of invoice processing causing automatic processing to stall.
not dependent on third parties
Blockchain is an always-available database that is not dependent on third parties. No single central party has control over the information, so users can assume that the data is and will remain correct. Companies can therefore validate whether the invoice they received is authentic in a split second. VISMA | yuki's can also process paper receipts securely via the blockchain. The receipt is given a QR code before being sent to the blockchain. When processed, Yuki scans the QR code and validates it with the QR code in the blockchain. Automatic processing then takes place in the accounting system.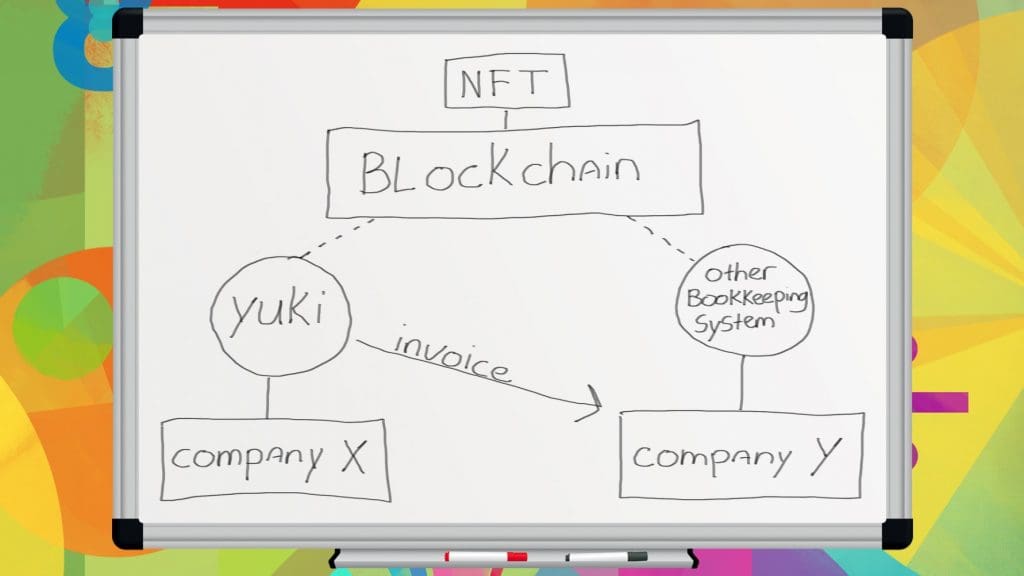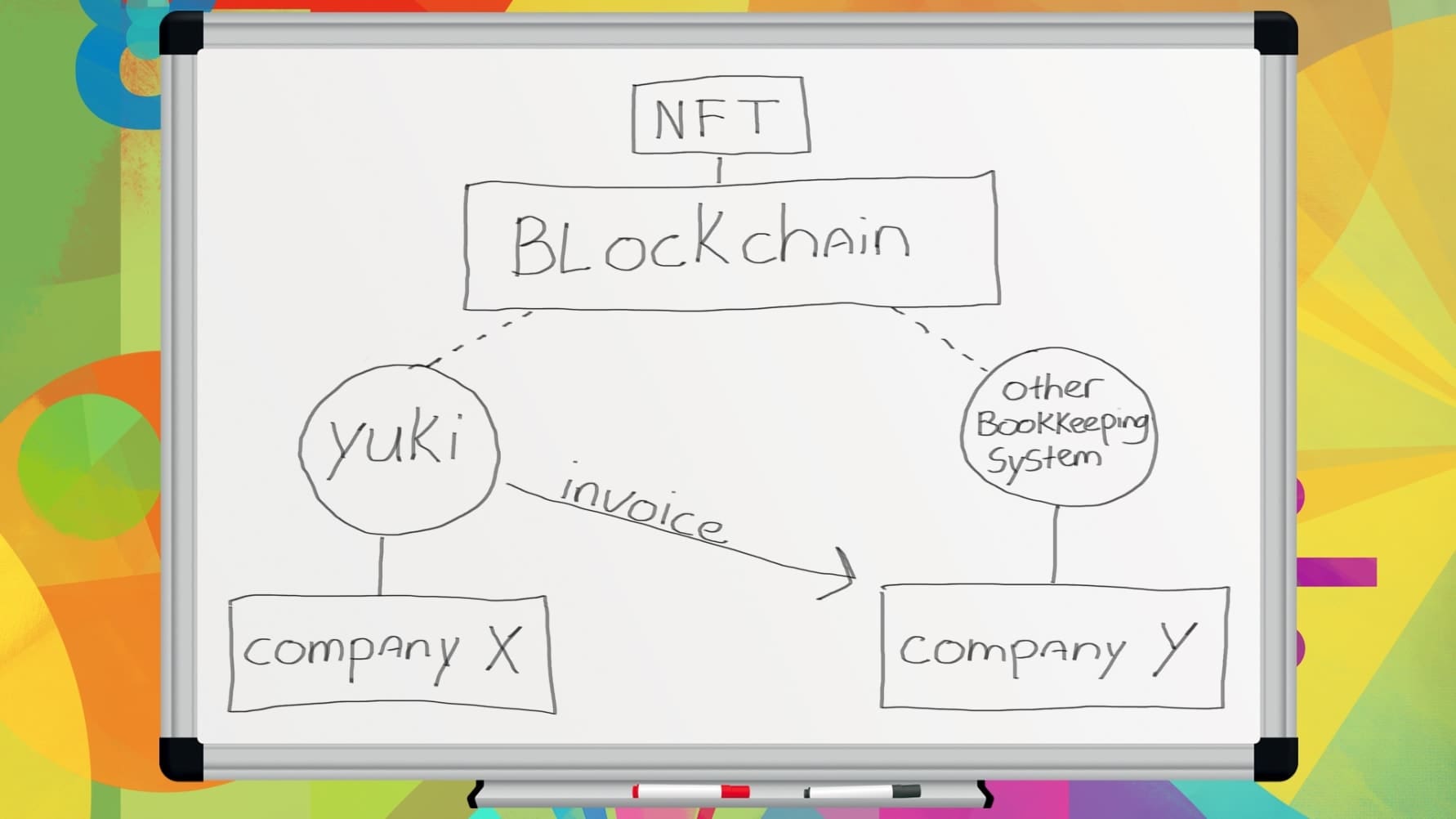 a 100% automated accounting system
"Since its founding ten years ago, Yuki has been working on a smart solution to a complex problem. By adding the blockchain technology Non-Fungible Token invoicing (NFT) to our accounting platform, we are sure that incoming invoices are correct. It is also possible to always retrieve a digital version of physical receipts from the blockchain. In this way, we realize 100% recognition of paper receipts from, for example, a gas station or supermarket, says Jeroen van Haasteren, Head of Product at Visma | yuki. "With CEO fraud and other security challenges, it is important to be able to trust incoming invoices 100%. With the implementation of NFT invoicing, we are taking a big step towards realizing our goal; a 100% automated accounting system."
blockchain and the future of accounting
Before blockchain can play a significant role in secure invoice processing, more software vendors must connect to this open NFT invoicing protocol.
"As VISMA| yuki, we are hopeful that we can give this first step toward greater ownership of your financial data a successful follow-up," says Rogier van den Heuvel, managing director of VISMA | yuki. "If more companies follow suit by incorporating NFT invoicing technology into their software, this will give each invoice an encrypted digital variant that the software can retrieve from the blockchain, where the recognition and correctness is always 100% accurate. With this, we can solve a major inconvenience together."
"You already see these initiatives in the market. Only the data and the revenue model always lie with an external party. With the blockchain, you don't have these limitations, and you always remain the owner of your data. Even if the companies around it were to disappear." says Niels van den Bergh, CEO mintBlue.
VISMA | yuki and mintBlue are calling on other service providers to join NFT Invoicing so that together we can make administration more accessible and safer.
Media Contact
Filip Mariënfilip [at] mintblue.com
—-
VISMA | yuki
Since 2007, Yuki has grown into a top player in the field of accounting software, active in Belgium, the Netherlands and Spain. Innovation has always been at the forefront. Yuki's innovative approach has contributed, among other things, to the introduction of robotic accounting into the Dutch market. Since August 2020, Yuki has been part of VISMA: a European leader in cloud business solutions. – yuki.nl
mintBlue
mintBlue is a provider of blockchain infrastructure. Providing infrastructure means that organizations can focus on an application without worrying about the complex underlying blockchain structure. mintBlue's powerful blockchain API has the highest scale with the lowest cost in the sector. – mintblue.com